It's often said that a workman is only as good as his tools. If you're in the CAD industry, one of the most important tools at your disposal is the computer mouse. Whether you're a drafter, engineer, or technician—the mouse is basically replacing your hand. This means when it comes to selecting the right piece of hardware, you're looking for precision, fast response time, comfort and control.
These days, a specialized CAD mouse can offer all of these features and more. Selecting which one is right for you can be hard when the amount of choice is overwhelming. If you're here, we're assuming you've decided to go for something a bit more advanced than a standard 3 button mouse. It should be noted, though, that many CAD users actually prefer to go back to basics and make do with these. It saves money and isn't such a big deal if your mouse ever needs replacing. 
Then again, if you really want to take your designs to the next level and improve workflow, it makes sense to take advantage of everything modern technology has to offer. In this article we'll run through a few of the top options on the market for CAD users and weigh up their pros and cons. The main consideration to take into account when purchasing any hardware is quality versus price. With CAD in mind, it's also useful to think about which mouse will slot efficiently into your existing workstation. So, let's get into it!
---
Uses of a Good CAD Mouse
The hardware you select will largely be shaped by what you intend to do with it. CAD of course involves a range of tasks, but it's likely you'll be spending a majority of your time using the mouse to draft. The important difference when selecting a mouse lies in whether you're drafting in 2D or 3D. So, what exactly do you use a CAD mouse for?
Those drafting in 2D need their mouse to enable them to have full control over their designs, with a highly sensitive cursor for accuracy. 3D drafters need this too, of course, along with the ability to smoothly navigate in three dimensions. That means panning, zooming and rotating. Professional CAD users need to be able to do these actions simultaneously, without having to stop and start again when changing directions.
You will find a range of CAD mouses designed exactly for the purpose of manipulating 3D images. Some drafters even prefer to use a 'primary' mouse in conjunction with a specialized 3D motion controller, in order to gain a high level of precision with their movements. Expect a slight hike in the price if you want equipment that specializes in 3D navigation, but it is often worth it, as it can make a vast improvement to your work.
---
Factors to Consider when Buying a Mouse for CAD
1. Comfort
Forget the fancy extra features—CAD drafters might be using a mouse for more than 8 hours a day, so the first detail to check off the list is whether the mouse is comfortable to use. You may not get a realistic idea of how it will feel over time until you've actually put in a full day of work. Based on personal preference, though, there are certain ergonomic designs you can veto.
Along with the standard 3 button mouse shape, models designed for CAD can come with trackballs attached, extra buttons down the side, and even in vertical form. Everyone will have differing opinions on whether these extras are a help or a hindrance. 
When considering a new mouse, it's also important to think about the length and intensity of the work you do. The mouse you choose will have a dramatic effect on on how your hand will be positioned throughout the day. Comfort is a key factor in productivity, so don't overlook this element.
2. Buttons
When working on something as complex as CAD designs, there'll be a variety of different commands you need to be able to implement. As a result, three buttons is rarely enough. Thankfully, plenty of CAD mouses come with extra buttons. This can be great, as long as they don't take up so much room on the mouse that it starts to affect the comfort element.
A way many manufacturers get around this issue is by adding a small number of extra buttons, each of which can be programmed to access different commands, or take you to a different menu. These features are generally designed to be compatible with software like AutoCAD. Customizable buttons are a great feature that opens up a world of possibilities in terms of how you can create and edit designs.
The scroll wheel is also a major point of contention for many people. It's great for panning and zooming, but if it is also acting as a button, it can be tricky to avoid scrolling when you're just trying to select something. Find a mouse that makes the scroll wheel easy to click or, better yet, provides an extra button behind the actual scroll wheel.
3. DPI
A major specification most CAD users look out for in a mouse is sensitivity. That is, how far the cursor will move on the screen in relation to how far you move the mouse. This is measured in dot per inch (DPI). So, if a mouse has a sensitivity of 800 DPI, the cursor should move 800 pixels for every inch you move the mouse.
Those working with CAD are generally looking for a high DPI. Constantly making big motions with the mouse when navigating designs is no good for your work space—or your arm for that matter!
4. Wireless or USB
It's pretty basic, but you should also think about whether you prefer a wireless mouse, or one that connects to your computer via a USB cable. Bear in mind that a cordless mouse might be heavier due to the batteries inside. If this is an issue for you, some manufacturers produce wireless models that can be charged by cable, rather than battery run.
Those of you who have had experience with them will also know that it is often extra frustrating trying to determine the root of connectivity issues with a wireless mouse!
On the other hand, if your mouse connects by cable, it involves more desk clutter and you may find yourself knocking things over when you're required to move your mouse in elaborate motions. Given the amount of hardware CAD often requires, it's likely there's already a lot of things competing for space on your desk.
As you can see, each comes with its own pros and cons, so it's mainly down to personal preference.
5. The best mouse for 2D drafting vs 3D modelling
If the majority of your CAD work involves 2D drafting in software such as AutoCAD then your mouse requirements might be much simpler than if you are predominantly working in 3D modelling. CAD engineers who design 3D models may wish to easily and intuitively switch between different 3D views of their CAD model. This fluid changing of views can be enabled by a suitable CAD mouse designed specifically for this use-case.
6. Price
For a mouse that you can use with CAD, you can pay anything from $10 (a standard computer mouse will do the job) to over $200. If you're looking for high quality and special features that are designed to enhance the CAD process, expect a figure at the mid to high-end of this spectrum.
Making a wise decision really depends on how often you're using the mouse and how advanced you realistically need it to be, based on the work you're required to produce. In other words, will paying over $100 for a CAD mouse be an investment, or an extravagance? If your career is rooted in CAD, a specialised mouse is certainly a worthy item to invest in. 
---
Mouse for CAD: Our top 5 picks
Here are the 5 best options for a CAD mouse:
Be sure to continue reading below for detailed descriptions of each option.
1. 3Dconnexion CadMouse Compact Wireless (3DX-700082)
Features of 3Dconnexion CadMouse Compact Wireless (3DX-700082)
Wireless mouse with 2-months battery life
Movement resolution 7,200 dpi
Movement detection technology: laser
Polling rate of up to 1,000Hz (via USB connection)
Cross-platform mouse: works with Windows, macOS, and Linux
Full-size ergonomic design
Quick zoom buttons
Customizable radial menu
7 buttons, with 5 programmable
Main buttons with 50-million-clicks mechanical life
Smart Mouse Wheel 2, which smartly adjusts the scrolling speed
Compact design optimised for mobile use
Included tailored carry case
Product Description
Kicking off our list is a mouse which may look fairly basic at first, but has plenty of integrated special features. In fact, the 3Dconnexion CadMouse (as you may guess from the name) has been designed specifically with CAD users in mind. The Compact Wireless 3DX-700082 is the latest iteration of 3Dconnexion CadMouse Wireless series of mouses. It is compact and agile, but still  provides the ideal sensitivity, precise control, and reactivity.
The 3DX-700082 supports Windows 8.1, 10, and 11 as well as macOS 10.15, 11, 12, and 13. It also supports the Linux OS. In addition, it boasts triple connectivity – you can connect it using Bluetooth, a USB-C cable, or a universal receiver, but each offers a different polling rate. For instance, the polling rate via Bluetooth and the universal receiver is 90Hz and 120Hz, respectively and up to 1,000Hz via the USB cable.
Laser movement detection technology, coupled with the high DPI, means this mouse excels in terms of precision. Plus, it's designed to create very little static friction during movement. This means no matter how much you're moving it around, your workspace will remain fairly silent.
A major effort has also been made to reduce any scroll wheel-related woes. Thumb buttons on the side of the mouse provide a 'quick zoom' option, there's a dedicated middle button, and a command quick access button located just below the scroll wheel. This means you only need to click the actual scroll wheel to perform the click-to-click zooming option. That's a lot of features contributing to optimal 3D navigation! 
As for comfort? Well, users of the 3Dconnexion CadMouse report that it is comfortable, although some observe that it may be too small for comfort, especially because of its compact design. Even so, it still boasts a long battery life, meaning it does not in any way impede your ability to work long hours. According to 3Dconnexion, the 3DX-700082 can last up to two months between charges (this battery life is based on a typical work schedule wherein the user works eight hours a day, five days a week). 
At $97.49, this mouse packs a lot of extras for the price. But if you do not wish to use a wireless mouse, you can go for the wired version – the larger 3DConnexion CadMouse Pro 3DX-700080 – which is larger but still offers similar capabilities. 
| | |
| --- | --- |
| No. of Buttons |  7 |
| DPI |  7,200 |
| Connector |  Micro USB wire, Bluetooth, Universal receiver (A wired version – 3DX-700080 – is also available) |
| Dimensions (inches) |  2.7″ x 4.3″ x 1.5″ (Width x Length x Height) |
| Weight |  3.88 oz |
| Price |  $97.49 |
| Availability | → Check availability on Amazon |
2. 3Dconnexion SpaceMouse Pro 3D Mouse (3DX-700040)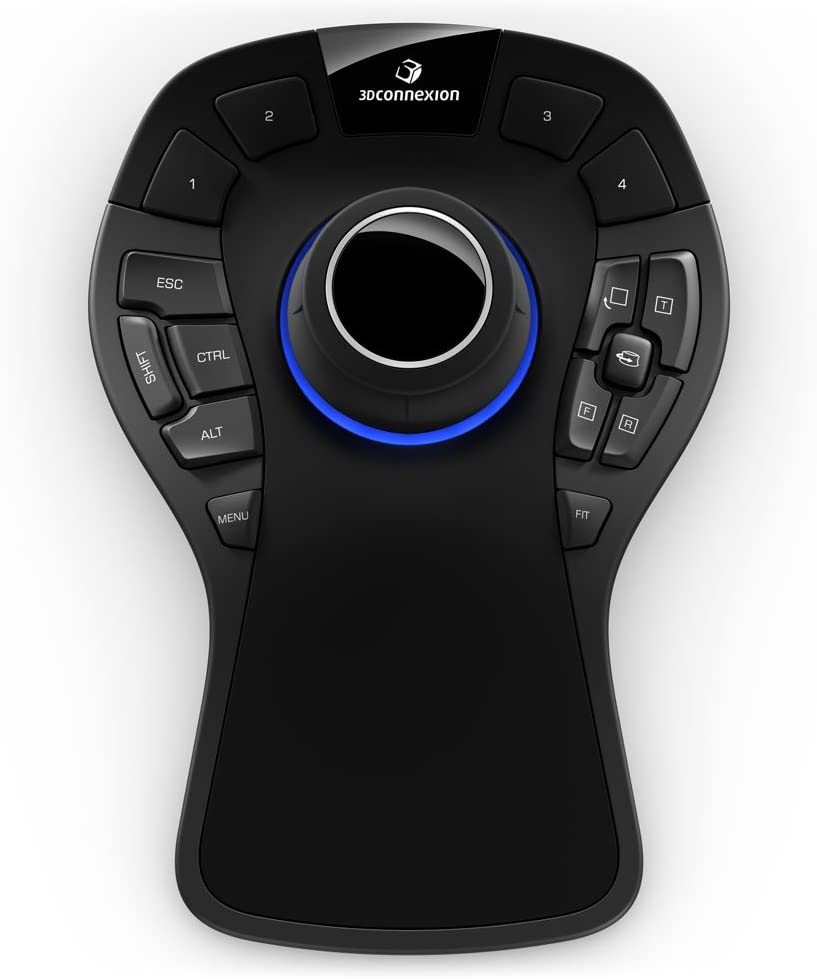 Features of 3Dconnexion SpaceMouse Pro 3D Mouse (3DX-700040)
15 buttons
Controller cap with patented 6-degrees-of-freedom sensor
Controller cap that can be pushed, pulled, twisted, or tilted to pan, zoom, or rotate a 3D drawing (6 degrees of freedom)
Compatibility with Windows (7, 8.1, and 10), macOS, and Linux
Ability to automatically recognize application environments and assign appropriate commands to four Intelligent Function Keys
On-screen display that provides visual reminder of the commands assigned to each Intelligent Function Key
Shift, Control, Esc, and Alt buttons (thanks to these buttons, you do not have to move your hands regularly to use these very keys on the keyboard)
QuickView Keys to access different views within the CAD application environment
Product Description
The SpaceMouse Pro 3D mouse does not conform to the conventional definition of a mouse. This is because it is not a mouse. Instead, it is a 3D motion controller that comes with additional keys – 15 of them – designed for people who want to take 3D navigational ability to the next level. It's made by the same company that produced the CadMouse (detailed above) and is perfect to be used in conjunction with that mouse, for optimum control. Its ergonomic design as well as a full-size, soft-coated hand rest improve comfort and ensure optimal hand positioning in order to easily and more naturally use the controller cap.
The controller cap's superior ability to manipulate 3D digital imagery comes from its patented 6-Degrees-of-Freedom sensor. By pushing, pulling, twisting and tilting the controller, you are not only able to move up, down, left, and right—but front and back too! Panning, zooming and rotating is a breeze thanks to this patented technology.
It's fitted with multiple buttons, including some that you would ordinarily find on a keyboard. We are talking about the Shift, Control, Esc, and Alt buttons; 3Dconnexion  includes these buttons to boost the user experience by minimising unnecessary hand movement considering the other hand is meant to rest on a mouse. Other buttons include the Intelligent Function Keys and QuickView Keys. The SpaceMouse automatically assigns commands to the function keys while the QuickView keys are designed to enable you to quickly toggle between multiple views.
While impressive, this is quite specialized equipment. It is in fact not regarded as a mouse. Rather, it is a 3D motion controller. We'd only suggest investing in such technology if it will play a large role in your work. 
| | |
| --- | --- |
| No. of Buttons |  15 |
| Sensor |  6DoF |
| Connector |  USB cable, 3Dconnection 2.4GHz wireless technology  |
| Dimensions (inches) |  5.59″ x 8.03″ x 2.28″ (Width x Length x Height)  |
| Weight |  19.86 oz |
| Price |  $283.99 |
| Availability | → Check availability on Amazon |
3. Logitech MX Ergo
Features of Logitech MX Ergo
Ergonomic design shaped to firmly support users' hands
Long battery life (up to 4 months of battery life)
Triple connectivity: bluetooth, wired (USB), universal receiver
Compatibility with Windows, macOS, and ChromeOS
10 meters wireless range
8 customizable buttons
Precision optical tracking
High precision/accuracy
Adjustable hinge that enables you to change the angle from 0º to 20º preventing wrist strain
Multiple connectivity – it can simultaneously connect to a maximum of 3 devices
Supports easy switching between two connected devices
Product Description
The cheapest on our list, the Logitech MX Ergo is a good option for those who want a slight upgrade from a regular 3 button mouse. This one boasts 8 buttons, all customizable—which is good news for your productivity.
The integrated trackball means you don't have to move your arm to move the cursor, which is great for preventing repetitive strain injuries. It also means it won't require a lot of space on your desk. To further boost the comfort, the MX Ergo has an adjustable hinge. This hinge enables you to change the angle of the mouse relative to the desk (between 0º and 20º). According to Logitech, this attribute helps reduce muscular strain. 
The MX Ergo has a variable DPI that ranges from 512 to 2048. This guarantees precision and accuracy. In addition, you can change the speed and accuracy of your cursor by changing the trackball's settings. Trackballs are not for everyone, though—it can take a while to get used to moving the cursor across the screen with your thumb rather than your whole hand. We'd recommend trying this mouse on for size before purchasing, to check that it's comfortable for you to work with.
Though this is a wireless mouse, Logitech has worked to ensure that the battery will not die on you. The MX Ergo has a 4-month battery life.  The manufacturer also claims that one minute of charge gives you a full day of service.
| | |
| --- | --- |
| No. of Buttons |  8 |
| DPI | 512 (minimum) to 2048 (maximum) |
| Connector |  Bluetooth, universal receiver, USB cable |
| Dimensions (inches) |  3.92″ x 5.21″ x 2.02″ (Width x Length x Height) |
| Weight |  5.76 oz |
| Price  |  $98.99 |
| Availability | → Check availability on Amazon |
4. Razer DeathAdder V2 Pro Wireless Mouse
Features of Razer DeathAdder V2 Pro
Dual connectivity (it can connect to two devices simultaneously)
Up to 120 hours of battery life on bluetooth mode
8 programmable buttons
RGB lights
Focus+ 20,000 DPI optical sensor
Injection-molded rubber side grips (for more secure swipes)
Product Description
If you require a high DPI ratio, look no further than the Razer DeathAdder V2 Pro. The DeathAdder V2 Probuilds on an already storied history of its predecessor, the DeathAdder. Known for its ergonomic design and compact shape that made it perfect for a palm grip, the DeathAdder has sold over 10 million units. With the DeathAdder V2 Pro, Razer has built on this legacy and made additional improvements that improve not only  the accuracy but also the user experience. The V2 Pro has shed weight while retaining the original shape – it now weighs a paltry 3.1 ounces (88 grams).
Despite its relatively average size, this mouse packs in eight programmable buttons. Additionally, Razer has not compromised on the battery life – you can in fact use the DeathAdder V2 Pro for up to 120 hours on Bluetooth mode or up to 70 hours when you switch to the Hyperspeed Wireless mode, which increases the performance of the mouse. According to Razer, the Hyperspeed Wireless mode makes the DeathAdder V2 Pro 25% faster than competing wireless mouses.
While this kind of mouse is often used primarily for gaming, many people have found it to be highly beneficial for CAD as well. One of the features that makes it well suited for design work is its 2nd generation optical switch that eliminates unintended double clicks. This, coupled with the 99.6% resolution accuracy, makes the DeathAdder V2 Pro one of the best mouses for CAD.
| | |
| --- | --- |
| No. of Buttons |  8 |
| DPI |  20,000  |
| Connector |  Bluetooth, USB wire |
| Dimensions (inches) |  1.68″ x 2.86″ x 5″ (Width x Length x Height) |
| Weight |  3.1 oz (excluding cable and dongle) |
| Price |  $59.99 |
| Availability | → Check availability on Amazon |
5. Logitech Triathlon (M720)
Features of Logitech Triathlon (M720)
24-month battery life
Dual connectivity
Easy-switch technology (enables users to switch among three paired computers)
1000 DPI 
8 programmable buttons
Logitech Options Software that lets you customise the different buttons
Hyperfast scrolling
Laser-grade tracking
Compatibility with Windows 10, 11, or later; Linux; macOS 10.5 or later; Android 5.0 or later; iPadOS 13.4 or later; ChromeOS
Product Description
Quality does not have to come with a hefty price tag. And the Logitech Triathlon M720 proves this fact. Priced at $39.40, this mouse provides features and capabilities that Logitech's competitors would probably only include in high-end mouses. The M720 has a long-lasting battery – Logitech claims the mouse can run for 24 months. Additionally, the mouse comes with easy-switch technology that lets you use buttons to switch from one computer to another. The M720 supports a maximum of 3 computers. And that's not all. The Logitech Triathlon M720's Dual Connectivity feature lets you connect up to six compatible Logitech peripherals using a single Unifying receiver. 
Other notable capabilities and attributes include Hyperfast scrolling and compatibility with Windows, Linux, Android, ChromeOS, macOS, and iPadOS. Logitech is known for creating comfortable mouses, and the M720 is no exception. It features a sculpted design with a rubber surface that fits snugly into users' palms. Designed for longevity, this mouse can withstand up to 10 million clicks (based on Logitech's tests). 
If you are looking for a cheap mouse that is still one of the best CAD mouses in 2023, look no further. The Logitech Triathlon M720 is your best bet.
| | |
| --- | --- |
| No. of Buttons |  8  |
| DPI |  1000 |
| Connector |  Bluetooth, Logitech Unifying receiver |
| Dimensions (inches) |  1.77″ x 2.91″ x 4.53″ (Width x Length x Height) |
| Weight |  4.76 oz |
| Price |  $39.40 |
| Availability | → Check availability on Amazon |
---
Conclusion
Hopefully this list has narrowed down your search for the perfect CAD mouse. When it comes down to it, comfort and functionality are key—so make sure your hardware at least checks those boxes. Anything you can use for long periods of time, without having to take a break, is going to aid your productivity significantly. That said, here's a list of the best CAD mouse for different categories:
Best 3D modeling mouse/controller: 3Dconnexion SpaceMouse Pro 3D Mouse
Best cheap CAD mouse: Logitech Triathlon M720
Best high precision CAD mouse: Razer DeathAdder V2
Best ergonomic mouse: Logitech MX Ergo
Best compact CAD mouse: 3Dconnexion CadMouse Compact Wireless 3DX-700082
Best overall CAD mouse: 3Dconnexion CadMouse Pro 3DX-700080
Still not sure which mouse to go for? When in doubt, keep it simple. Just like in choosing a CAD monitor, for instance, whether you even need a 4K monitor, there's no point spending a lot of money on a mouse that doesn't suit either you or your work. Try out different styles where you can, and build up a list of personal preferences until you're ready to invest in one of the more specialized models. And if you intend to build the ultimate CAD PC and are in the market looking for a budget CAD monitor, consider checking out our analysis of the best CAD monitors under $1,000.