People have always been in search of mobility in their day-to-day activities, including work. It is no surprise, therefore, that CAD has evolved from being available on only mainframe computers to be available on personal computers, and today, you can create fully functional designs on compact devices such as an iPad.
The iPad mobile device is so powerful that it can run different CAD programs successfully. However, the success of your CAD project doesn't depend solely on the power of the hardware (an iPad in this case), but also on the iPad CAD Software used. There are tons of paid for and free CAD applications available for the design of models. 
In this article, we would be reviewing the 7 Best CAD applications for iPads. If you need more, all the available applications can be gotten from the Apple App Store.
Table of Contents
The 7 Best CAD Applications for iPads
Frequently Asked Questions (FAQ)
---
The 7 Best CAD Applications for iPads
1. Shapr3d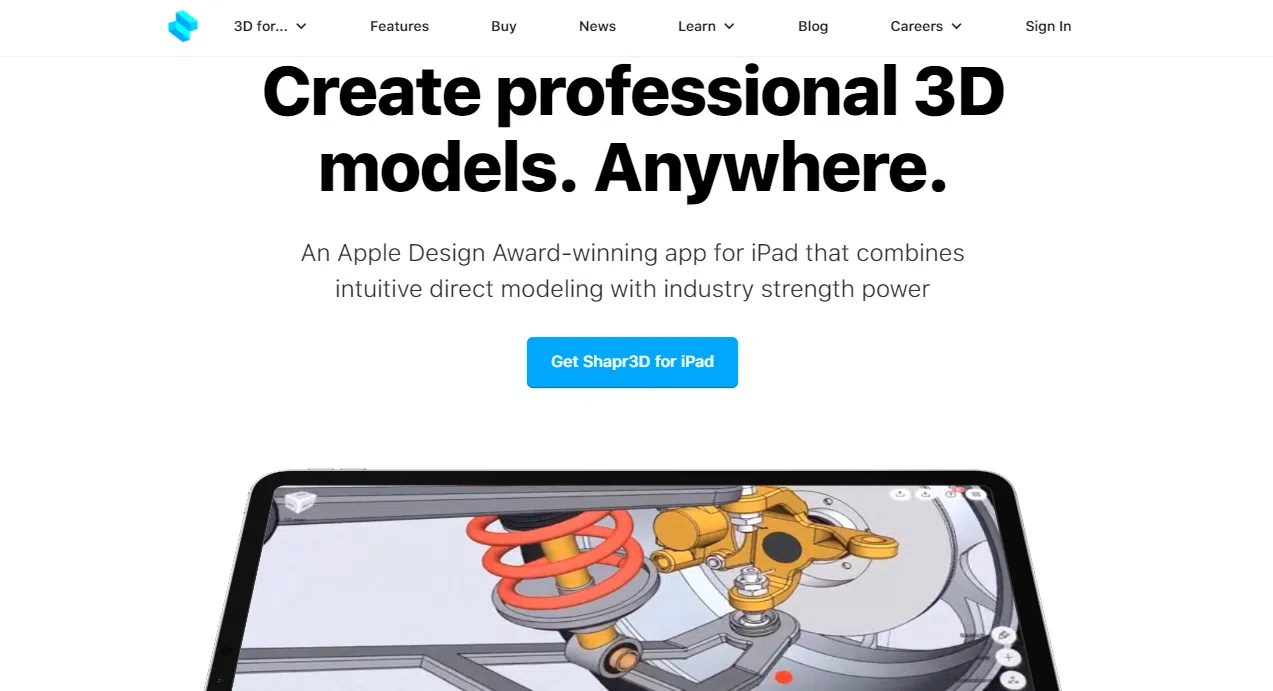 Pricing structure: Subscription (monthly and yearly)
Price: 240$/year
The first app on our list is actually one of the first professional 3D CAD applications to run on any Apple pencil-supported iPad. Shapr3D is a 2D and 3D modeling application that is used for 2D drafting, part design, and visualization. Using the Apple Pencil, you get to experience highly responsive 3D modeling, which gives the feeling of sketching with a pen on paper. The application also has a predictive menu that suggests various tools and transformations for every selection you make, speeding up your design process. Shapr3D also features smart toolsets that are engineered for quick mastery, hence reducing design time. You can effortlessly create parametric designs using the constraints, dimensions, and drawing tools such as lines, arcs, ellipses. You can also use the boolean command to combine separate bodies, creating water-tight manageable solid models. 
Another perk of using Shapr3D is that you can use it as a 2D/3D model viewer and editor. You just have to import an existing project and utilize the app's intuitive tools to develop stronger prototypes. This perk is also helpful for design presentations and idealization with clients. Shapr3D supports X_T, STEP, IGES, STL, DFX, DWG, OBJ, JPG, and PNG file formats. First-time users usually master the interface and learn how to use the tools in no time with the help of the free video tutorials and bi-weekly seminars provided by the application.
2. uMake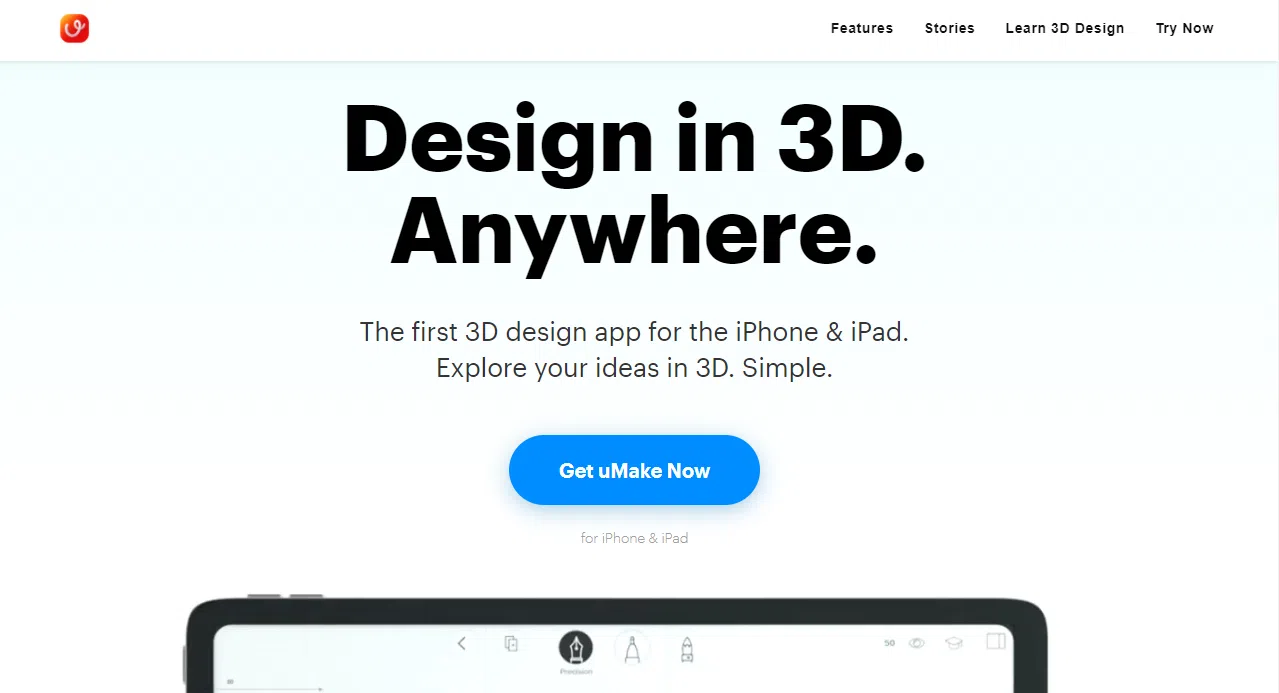 Pricing structure: Subscription (monthly and yearly)
Pricing: 95.99$/year
Every CAD user wishes to have a platform where their ideas and imaginations can be expressed seamlessly and quickly. uMake is a 2D and 3D modeling app that provides such a platform. The application offers a plethora of features that ensure that your designs are created to your desired quality. The first stage of 3D modeling in this app is sketching. You can put down your raw sketch using the apple pencil, then add precise lines to your model to enhance the sketch look, using the necessary commands. There's a surfacing feature with which you can generate surfaces on your drawing either manually or automatically. You can add surfaces to sketches of a car, a house, robots, and other objects. 
uMake supports the importation of various CAD files and images from other CAD software to use as a reference, for modification or presentation. It supports SKP, IGES, STEP, OBJ, STP PNG, and JPG file types. You can export designs created to other CAD programs. In addition to all these, uMake features a content library, presentation tools, augmented reality views, and a rich library of video tutorials. 
3. Morphi
Pricing structure: One-time payment
Pricing: Varies
Morphi is a simple but powerful application used for 3D design and modeling. It is available for people of all ages and levels of CAD skills. With this app, you can create animation designs, graphic designs, and game designs. An advantage of the app is that you can design offline. Morphi possesses various 2D and 3D tools that enable you to sketch and draw models using freehand, straight lines, 2D shapes, erasing lines, and revolving lines. You can also mirror lines on the x or y-axis and transform high-contrast images into editable 3D objects. Pre-loaded 3D models are available in the library. 
Morphi enables users to place, view, and edit 3D models in augmented reality using ARkit tools such as snapping designs to horizontal planes and vertical planes. In order to avoid loss of design data, the application autosaves your work as you design. Morphi allows you to import 3D models in STL and OBJ file formats from other CAD applications. You can also export your models for game design, 3D printing, uploading to other AR/VR design applications, and for further editing in other applications. There are various detailed short tutorial videos and other support to help in the mastering of the application. 
4. AutoCAD
Pricing structure: Subscription (monthly and yearly) 
Pricing: 55$/year
A list of great CAD applications would not be complete without an application from the software giant, Autodesk. AutoCAD mobile app is a DWG editing and viewing application. While it may not be as powerful as the desktop version, it possesses easy-to-use tools for basic drawing, drafting, and editing. You can create, delete, rename, lock layers, add blocks to drawings, and annotate your drawings by adding comments and marking up the drawings. After creating your design, you can reveal your object's requirements and add dimensions to your drawings with the tools provided. With AutoCAD, you can design and work offline, allowing you to take your design to the site or anywhere else for further inspection or client review. It has collaboration features that help team members work on a design in real-time. 
5. Morpholio Trace
Pricing structure: Subscription (Monthly and Yearly)
Pricing: Varies by package
If you're a CAD user that likes to get handy with sketch designs and communicate through drawings, then Morpholio Trace is a perfect choice. It is utilized by architects, interior designers, landscape architects, urban planners, engineers, and any other CAD user that deals with the design and arrangement of environments. 
Morpholio Trace takes you through the journey of creating intelligent sketches and drawings. To enable you to create the perfect sketch, the program has a number of beautiful pens, smart rulers, and perfect layer control. Here you can adjust the line weight or opacity of the drawing instruments (pencil, pens, brushes, etc). You can customize your own entourage, household objects, landscape, and graphics, or use the premade ones in the library to bring the sketch to life. You can literally sketch with detail, a whole event center and walk through using the features provided for that.
6. AutoQ3DCAD
Pricing structure: One-time payment
Pricing: $29.99
AutoQ3DCAD is a very user-friendly application for creating, editing and sharing 2D drawings and 3D models. It can be used by hobbyists, students, and every profession that has something to do with design, like engineers and architects.
For the modeling, you can create designs using 2D shapes such as line, circle, rectangle, arc polygon, triangle, and others and three-dimensional shapes like spheres, boxes, other 3D shapes. Your surfaces can be drawn from 2D primitive using the extrude and revolve tools. When you are done with the basic sketch, further modifications can be made using commands like fillet, round, trim, offset, extend, and explode. The snapping tools are provided to help increase the accuracy of creating and modifying objects.
AutoQ3DCAD also has editing tools, such as move, scale, and rotate; view tools like a wide frame; grouping tools, to help organize your objects of a large in groups; and misc tools that provide information such as distance, area, parallel, perpendicular, and tangent lines. Navigating this app is not a problem for beginners, thanks to the learning and documentation features as every command in the app has visible parameters; there are tutorials videos, online forums, email support, and a downloadable user manual. 
7. Onshape CAD
Pricing structure: Yearly subscription for commercial purposes, free for non-commercial
Pricing: 2100$/year
The well-known Onshape that provides solutions for CAD, CAM, and CAE through the cloud also has a mobile version, Onshape CAD. Onshape CAD is a cloud-based 3D mechanical modeling application that enables you to create, edit, and share models. One of the major selling points of this app is the secure online collaboration feature that enables multiple users to work on a model simultaneously via the cloud in real-time. Onshape's CAD, data management, and collaboration tools give you the perfect design experience. 
Complete sets of tools for complete parametric design are available in the app. In the part design studio, you can create detailed parts and manufacturable mechanical assemblies to capture complex motions. The application supports the use of the Apple pen for more intuitive sketching, selection, and navigation. When designing you do not have to worry about ever losing your design data or having to start the design again as all the changes made on the models are automatically saved in the cloud. 
Onshape CAD helps achieve the main aim of designing on an iPad, which is the ease of use and mobility. You can start your design on a device, let's say your computer, and continue on your iPad from anywhere, without having to export any files. All you need is to log in with the internet and carry on with the design. Onshape is free for educational purposes and for non-commercial projects. 
Frequently Asked Questions (FAQ)
1. What is the best free CAD app for iPad?
There are currently no free CAD apps for iPad. To legally use the available iPad CAD software, you will have to pay either a monthly/yearly subscription or a one-time payment. 
The above list gives the top seven best iPad CAD software and if you are on a tight budget, the AutoQ3DCAD could be a good choice since it only requires a one-time payment of $29.99.
2. How can I use CAD on my iPad?
Depending on the capabilities of the iPad CAD Software you have selected to use on your iPad, you can view, edit and even create 2D or 3D CAD files on your iPad. 
3. How can I view CAD files on an iPad?
There are applications you can use to view CAD files on your mobile. If you are using an iPad, you can use any of the above-mentioned CAD applications to view CAD files. It is therefore important to confirm that a CAD application can do what you want to do with it before deciding to pay for it and install it on your iPad.
4. Is there a FreeCAD app for iPad?
No, FreeCAD doesn't have a mobile version, either on Android or iOS.
You could consider going for an alternative CAD app from the list of iPad CAD software provided in this article.
Conclusion 
With a device as powerful as an iPad combined with one of the applications listed above, you have the power to effortlessly create a plethora of 2D and 3D designs; from basic sketches and drafts to complex manufacturable parts and assemblies. Just head to the Apple Store, download, and design without limitations.