"The best things in life are free," so the adage goes—but not so much when it comes to CAD. Those looking to use top-of-the-line software such as SolidWorks can, therefore, expect to pay a pretty penny. But is there a way to avoid the fees and get SolidWorks for free?
In this article, we'll explore your options when it comes to a free copy of SolidWorks. We'll also list some alternative CAD software that offers similar functionality without the price tag.
---
SolidWorks for free in academic institutions
While commercial enterprises can expect to fork out thousands for CAD software, manufacturers often let students off the hook. (This isn't quite as altruistic as it seems—after all, if you know how to use their software, you're likely to keep using it after graduation!)
If you read up on our article about SolidWorks pricing, however, you'll know that Dassault Systèmes don't offer a student version for free. In fact, it comes in at a recommended sales price of $150. Though far lower than the $3,995 licensing fee for the standard edition, this is still far from free!
However, there are ways around this. The key solution is Student Access Licensing, which is available to schools that already have a number of networked seats of SolidWorks.
Here are 2 ways to qualify for SolidWorks Student Access Licensing:
If your institution already has 45 or more networked seats, it qualifies for the Student Design Kit program. This offers student access to SolidWorks Standard that you can install on your PC.
Over 100 networked seats means that your institution qualifies for Student Engineering Kit. With this program, students can install SolidWorks Premium locally.
To check if your institution qualifies, contact your school's CAD Administrator. Licenses will expire either one year after activation, or November 30th of the following academic year. If you're unable to get SolidWorks for free via this method, it's also worth asking your school if it's possible to borrow an existing license.
---
The SolidWorks Free Trial
If you're on the fence about SolidWorks, then committing to spending thousands straight off the bat may be unwise. Luckily, you can try out SolidWorks for free via two different trial versions.
The first is a traditional free trial, which enables you to put all of SolidWorks' functionality to the test. Trials are available for one-day, seven-day, and thirty-day periods. As is the case with standard, paid-for SolidWorks, you'll need to contact a local reseller to download a trial. Please note that these trials are available for commercial users only.
Trials are available for:
3D Design
Simulation
Electrical Design

Product Data Management
Technical Communication
Visualization
If, however, you're not keen on installing a hefty CAD program onto your system—especially when you may not be sure you want to keep it there—there is another option. Online free trials are now available from my.solidworks.com, requiring no installation whatsoever.
When visiting my.solidworks.com, you'll be prompted to log in or sign up for an account. Once in, you'll be able to use a cloud-based version of SolidWorks CAD Premium, with access to 3D CAD, simulation, MBD, CAM, and visualization tools. You'll be able to work with sample files, as well as upload your own designs into the trial environment. It's even possible to connect your account to cloud storage, such as Google Drive or Dropbox.
Where to find SolidWorks resellers for a free trial
Since its early days SolidWorks has been sold through a value-added reseller chain; an arrangement that has been pivotal in the success of the CAD software. The SolidWorks resellers are independent businesses that sell SolidWorks solutions.
The resellers are the primary point of contact for SolidWorks customers. They handle license sales, implementation, training, and customer support on behalf of SolidWorks.
To find a SolidWorks reseller, simply visit the SolidWorks VAR locator, enter your country and postal code and click "Find Resellers." You shall be provided with resellers who are near your location.
---
Are there any other ways to get SolidWorks for free?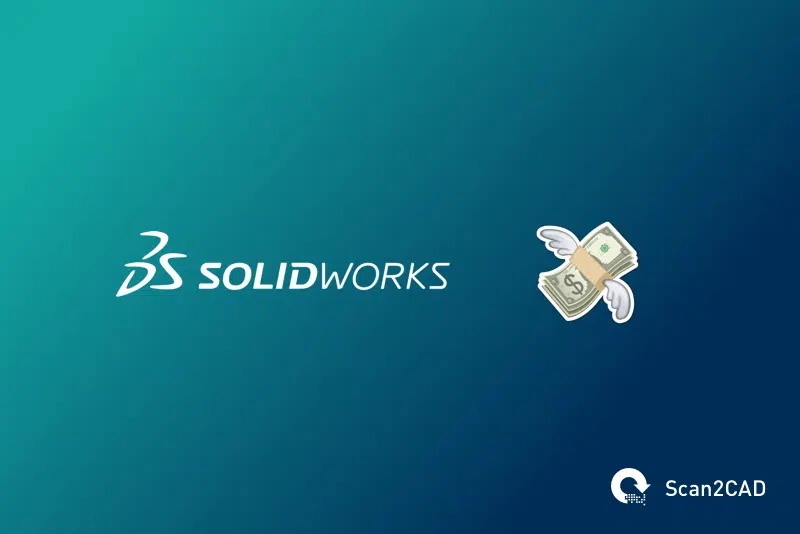 Unfortunately, the above choices are the only options Dassault Systèmes offers users wishing to get SolidWorks for free. There's no equivalent of, for example, AutoCAD 360, Autodesk's 'lite' version of its flagship AutoCAD software.
Downloading a SolidWorks crack is one way that some users may attempt to get around this issue. However, this is a risk that simply isn't worth taking. Firstly, downloading cracked software is illegal, potentially landing you in hot water further down the line.
There are also a number of dangers you leave yourself exposed to by downloading a SolidWorks crack. These include downloading viruses onto your system, as well as copyright risks to the designs you create. The message is clear: avoid cracked software.
However, this doesn't mean you should pack up and go home. If you're looking for a way to create great things in CAD, but can't quite face splashing the cash on SolidWorks, we have a few more tips.
---
Free and affordable alternatives to SolidWorks
While SolidWorks may have cemented its position as the market-leading 3D CAD suite, it's not the only choice out there. In fact, if you're willing to look beyond Dassault Systèmes flagship software, you may find some truly innovative software that meets your needs perfectly.
Here are just a few of the top free and affordable SolidWorks alternatives:
Onshape
If you're looking for an affordable CAD choice with similar functionality to SolidWorks, you can't go too far wrong by opting for software from the same founder. That's what you'll get with Onshape, a cloud-based offering from a team including Jon Hirschtick, who founded SolidWorks in 1993.
Since its first release in 2015, Onshape has won plaudits from across the industry. That's because it hasn't merely recreated 3D CAD in the cloud, but has pushed it forward, with new functionality such as the FeatureScript programming language.
You may expect to have to pay an arm and a leg for such innovative software—but, surprisingly, you can get Onshape for free. The free version offers full CAD functionality to users, while keeping data secure in the cloud. This ensures you'll be able to access your designs from any device, at any time.
Please note that the free version of Onshape is for non-commercial users only. Commercial subscriptions begin from $1,500 per year.
FreeCAD
Here's a suite that does what it says on the tin: FreeCAD. Indeed, while Onshape above offers both free and paid versions, FreeCAD is open source. This means that it's free for all users, for all purposes, forever.
While most totally free CAD software offers only 2D functionality, FreeCAD distinguishes itself with its range of 3D features. In fact, as a parametric modeling software, FreeCAD operates in much the same way as SolidWorks. This means that experienced SolidWorks users shouldn't have to contend with a steep learning curve when making the switch.
This flexible software is suitable for users across a range of fields, including engineering, architecture and product designs. There are even a number of advanced features, including FEA tools and a robot simulation module.
BricsCAD Shape
In early 2018, Belgian CAD firm Bricsys launched BricsCAD Shape, a conceptual modeling tool. The aim of Shape is to act as the first step in a BIM workflow, with users creating models in Shape before moving onto BIM software such as BricsCAD BIM.
While Shape is a free software, this doesn't mean that Bricsys have skimped on features. In fact, the manufacturers claim that it includes "the same fast and proven parametric, 3D direct modeling engine" as their paid solutions.
As a CAD-accurate program using the DWG file format, BricsCAD Shape is an excellent choice for those looking to create 3D designs that they can share with other designers. It also comes with a library of components that you can incorporate into your design. Best of all, you can learn to use BricsCAD Shape in just half an hour.
And if you need help comparing SolidWorks to its competitors, here are some direct comparisons to SolidWorks:
---
Want to learn more about this software? Check out our brief history of SolidWorks.