Every CAD or CNC professional (and computer user) comes across hundreds of PDF files in their career. After all, it's the standard file format used in document exchange, given its wide compatibility across all devices and software.
These PDF files contain valuable information required for your CAD work. However, in order to extract the information and make edits to the drawing, you'll need to convert the PDF file into a CAD-compatible format like DXF or DWG. In this article, we'll walk you through everything you need to know about Scan2CAD, the market leading file conversion software that you can download for free. With its 20-year track record and clients such as Shell, BBC and Intel, it's the file conversion brand that you can trust.
---
1. Highly Accurate PDF-to-DXF conversion
Scan2CAD can extract both raster and vector information contained within your PDF file, including vector entities like polylines, polygons and text; as well as embedded raster images and metadata. It also includes an OCR text recognition engine to extract text from images. Scan2CAD also lets you…
Save vector entities on one single DXF layer or on multiple layers (each layer defined by either color or type)
Automatically retain any user-defined line types (such as dashes and dots) when converting vector PDF files. It also preserves line width information, which is especially handy when converting electrical diagrams
Save vector files in the correct size and scale
Save vectors as True Color (i.e. the exact original color)
The most powerful feature in Scan2CAD has to be our raster to vector conversion engine. The software comes pre-loaded with automatic settings for a wide range of drawings, including architectural, electrical, and mechanical drawings, amongst many others. This enables the software to create the most accurate vector entities possible, giving you optimal results.
download scan2cad for free here
---
2. CAD & CNC-ready files
After vector conversion, you can export your file as DXF or DWG (and a number of other vector file types). These are the two most widely-used CAD file types in the industry. Not only that, but Scan2CAD is able to read and write files from many different versions of DXF and DWG files. It supports DXF files pre-R14 and DXF R14/LT97 and later, and it supports DWG files for all versions between R12 and R2007-2010. As for input, Scan2CAD accepts both single page and multi-page PDF input. What's more, when importing your PDF, you can choose to import raster images only, vector images only, or both – and whether it's a scanned document or a drawing file that's saved as PDF, Scan2CAD can convert your file to DXF. You can even rotate the PDF page when loading it! After you've vectorized your files, they're ready for use in CNC machining.
Still deciding which CNC machine to start with? Check out our guide to the best CNC kits for beginners!
download scan2cad for free here
---
3. Full set of vector and raster editing tools
Scan2CAD is an end-to-end file conversion solution. Using just one program, you can scan, edit, and convert your image. You can clean up raster images and prep them for optimal raster-to-vector conversion. After conversion, there's an entire suite of vector editing tools, meaning you can cut, copy, move, and paste elements within your image, draw new vectors, add text, and more. This can be useful for optimizing poor raster images before conversion, e.g. converting GIF to DXF. 
download scan2cad for free here
---
4. Convenient
Using Scan2CAD's intelligent conversion software can you save hours of precious time. Once you experience the convenience of using raster-to-vector conversion software, you'll never go back to tracing over raster images manually on your CAD software.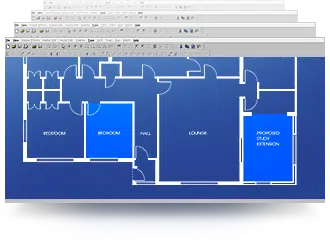 Scan2CAD also supports batch processing so you can automate conversions of thousands of files in a few clicks! All you have to do is select the files or folders you want to convert and choose the right settings. Learn more about batch conversion and automation here.
Scan2CAD is leaps and bounds ahead of competitors when it comes to dealing with raster images. Other conversion software will simply extract the raster images from your PDF, potentially leaving you with a huge number of different raster images for each page of your PDF. It's not very efficient, and it makes it really hard to edit. Scan2CAD, meanwhile, saves all the raster images on one page as a single image, letting you get on with editing it as normal.
download scan2cad for free here
---
5. Safe and secure
There are plenty of online conversion tools promising great results, absolutely free! It sounds too good to be true – and unfortunately, that's because it almost always is. Uploading your files to an online tool might not only leave you with a poor quality image – it can compromise the security of your file, leave your company's intellectual property vulnerable, and comes with the risk of malware being downloaded to your PC. Check out our article on the problems of online file converters to find out more – and find out why it's better to stick with Scan2CAD.
download scan2cad for free here
---
Try every feature for free
Try the full version of Scan2CAD with our free 14-day trial. This trial version allows you to try every single feature in the professional version of Scan2CAD, all for free. Unlike some other free PDF to DXF and PDF to DWG converters, there are no watermarks printed onto your output files. Click on the image below to download your unlimited trial now.