Converting to DXF gives you the freedom to edit your designs in a huge range of software. As DXF is an open standard, it is supported by practically every CAD program on the market. This means that when you convert to DXF, you can guarantee that you'll be able to view and edit your file, no matter which software you use. The file format is perfect for collaboration and sharing, which is why Scan2CAD recommends DXF as an ideal format for conversion.
If you need to convert to DXF, then you need to choose the right conversion software. Enter Scan2CAD, the market-leading DXF file converter. Having been on the market for almost two decades, thousands have already put their faith in Scan2CAD to help get the job done. In this article, we'll cover everything you need to know about how to convert to DXF with Scan2CAD, and how to get the software completely free for 14 days.
---
The Ultimate DXF File Converter
Scan2CAD is a two-in-one solution, which lets you convert from raster or PDF to DXF. The software supports a wide range of raster file types, including (but not limited to) JPEG, TIFF, GIF and PNG.
Converting your image with Scan2CAD takes just 4 simple steps: 
Scan or load your raster image
Optimize your raster image using the editing suite
Convert your raster to DXF 
Perfect and make final edits
Scan2CAD's conversion process makes use of automatic tracing. It detects the lines and edges of your raster image and redraws them as vector lines, curves, polygons and other vector entities. 
Scan2CAD also includes Optical Character Recognition (OCR) which detects and recognizes text in images, and automatically converts them into editable vector text. Scan2CAD also stays a step ahead of other converters thanks to its neural networks. These work in the same manner as the human brain, and can be taught to recognize unusual fonts and even handwritten text. For a full list of all the OCR features available with each Scan2CAD package, check out our OCR details page.
download scan2cad for free here
---
Time-Effective Conversion Process
Once you've scanned in the raster image you want to convert—or created it in another program—then all you need to do is load it into Scan2CAD, ready for conversion. After you load the image, it takes just seconds to convert from raster to vector, thanks to Scan2CAD's one-click vectorization process. To convert, just follow these simple steps:
1. Load your file into Scan2CAD by clicking on File > Raster > Load
2. Choose an appropriate image type from the list of vectorization settings in the Type menu
3. Convert your image! To convert, just click the 

 button to convert lines, arcs, and curves; click 

 to convert text; or click 
 to convert both.
4. Save your image as a DXF. Just click on File > Vector > Save As > DXF.
For a more in depth process, check out how to convert a PDF to DXF, or how to convert a PNG to DXF.
download scan2cad for free here
---
Full Editing Suite
In addition to its conversion capabilities, Scan2CAD also offers users an extensive raster and vector editing suite. There's no need to use a different program—Scan2CAD can convert and edit images, ready for use in CAD, CNC, GIS and CAM programs!
Users can clean up and optimize images before conversion using raster editing tools, to combat common raster issues such as those in the image below:
Scan2CAD's specialized tools are designed to eradicate these issues, and maximize your image to its fullest potential. We advise following our raster quality checklist before any conversion, to ensure that you make the most out of your raster image.
Tip: for a quick and easy guide to the process, visit our list of the top 10 raster effects! 
After conversion, users can perfect their vector image using our suite of vector editing tools. You can cut, copy, paste and move elements in your vector image—or add or delete vector entities and text—and get the best possible results.
download scan2cad for free here
---
Convenient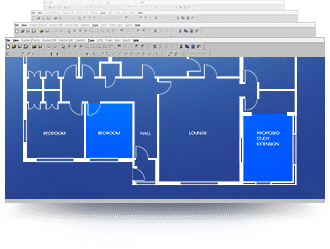 Scan2CAD is one of the most fully-featured conversion programs on the market. With market-leading vectorization and smart OCR, you can get great results when converting from raster to vector. But that's only the tip of the iceberg. Scan2CAD also comes complete with a full raster and vector editing suite, enabling you to optimize your raster image before conversion, and add those finishing touches afterwards to get a perfect vector output. Not only that, but you can benefit from our batch processing capabilities to automate conversion for hundreds of files in just a few clicks!
With Scan2CAD, you can rest assured that you're using a secure program. Online file converters, meanwhile, may promise the earth, but come with a host of security risks and other issues. When you're dealing with important designs and information, that's a risk you can't afford to take. Scan2CAD however, keeps your files safe.
To put it simply, Scan2CAD offers you more for less.
download scan2cad for free here
---
Try It Out For Free
When you're downloading a new program, it may be tempting to download a cracked copy. However, downloading a Scan2CAD crack can compromise the security of your files and system.
So, is there a 100% secure way to try out Scan2CAD for free? The answer is yes!
Download our free trial and you can make the most of Scan2CAD's full range of features, completely free for 14 days—with no limits. There are no watermarks, no restrictions—simply download the software and convert as many files as you like. Click on the image below to start your download now!